ADVENT OF THE GLASS INDUSTRY IN INDIA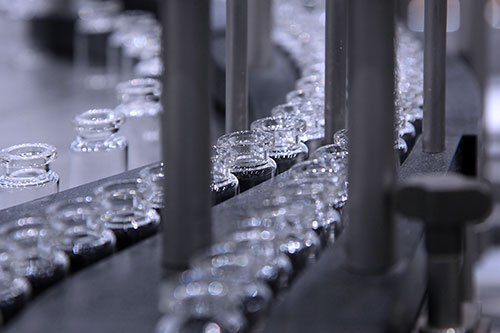 When it comes to high quality storing and environment friendly packaging – glass packaging is what you require. Glass packaging is a long-term blanket of safety for a product. Glass bottles and jars have almost zero rate of chemical interactions, ensuring the aroma, wholesomeness and flavour of the product stay intact. The best part about glass packaging is that it is made from all- natural sustainable raw materials and is 100% recyclable. World is full of health scares and terrifying contaminating stories and glass packaging is ultimate solution to all of this, as it isn't made up of reactive chemicals which means product is less likely to become contaminated resultant fresh food for longer time. In comparison to glass, plastic can melt and there are risks of chemicals leaching into your food. Certain plastics aren't even safe for food production. When a consumer chooses foods or beverages packaged in glass, they avoid potential risks while enjoying a number of benefits.
When companies such as Pepsi-co, Cremica food industries, Allied blenders and distillers considered the use of glass in packaging, it technically marked as birth of glass packaging in Indian industry. But the people of Syria get the actual credit for beginning of glass packaging. Firozabad known as "Glass city in India" started production of glass back in 17th century
India experienced a major shift to glass industry when plastic got banned. The 1980's brought awareness of environmental costs of plastic waste, as the first report of it's damage in the sea emerged. Currently cities including Delhi, Mumbai, Tirumala, Vaseo and states including Rajasthan, Kerala, Punjab and Madhya Pradesh put a strict ban on plastics. This led to a greater demand for glass packaging int he country. Processed food maker s such as Cremica foodindustries, Parle Agro and Coca-Cola, etc all shifted from plastic to glass packaging due to increased public awareness about plastic. Even the new age dairy products are being packed in glass bottles to ensure the wholesomeness and purity of the products.
Made primarily from silica sand, glass is used in variety of industries from pharmaceuticals and automobiles to architectural to the processed food industries, and there are many leading companies in glass industry providing the public with the best. Hindustan national glass and industries limited (HNGIL) is one of the oldest glass manufacturing companies in India, headquartered in Kolkata. They are considered the pioneers of glass packaging in India. It operates with a vision to create a world class glass manufacturing plant that pursues quality, cost production and productivity. The company aims to make glass the most preferred by packaging material among the consumers as a sustainable packaging material.
Other companies such as La opala, Saint Gobain Sekurit, Gujarat Borosil limited, Binani industries limited, Swiss glass coat equipment limited, etc are also leading producers of glass and are providing best glass equipment's in a manner to fulfil public demand in the field of cosmetics, pharmaceuticals, food, beverages and in addition to that health which is a major concern these days.
To make glass packaging vision a reality, many glass decorating techniques were introduced like: Silk screen printing is great way to print flat, round or oval bottles with your artwork or logo. Such technique is used by Coca-Cola to print Coca-Cola's logo on bottles. Also, various pharmaceuticals use this technique to label the bottles.
Today's world is said to be digital which makes it necessary for digital printing to step in era. The digitalized artwork can be easily printed on glass bottles or glasscontainers. Even, photo realistic or Abstract images with superfine resolution and quality can be printed on glass bottles to enhance the packaging of the product.
The most prevalent technique these days is Hot Stamping. It is most environment friendly way to get eye-catching metallic letters and artwork onto your bottle and containers. Such a technique is used by Keventer's to make their bottles look more attractive.
Even we can get our bottles or containers customised these days. Isn't it cool? We can wrap, bend or fold our artwork over and around curves and angles of bottles as per our requirement.
As you detox your home, it's important to understand what materials to avoid, but almost more important to know what materials to choose. Glass packaging is one of the materials constantly preferred. It's impermeability, long term preservation of quality, real time protection, outstanding barrier against outside influences makes glass just what is needed for packaging.
Nothing is healthier than glass packaging.
http://www.gpi.org/learn-about-glass/benefits-glass-packaging
https://www.slideshare.net/mobile/mohammedmmd786/advantages-and-disadvantages-of-glass-packaging
https://www.fundoodata.com/learning-center/top-10-glass-manufacturing-companies-india/
https://www.india-briefing.com/news/plastic-ban-india-business-impact-state-specific-regulations-18145.html/
https://m.economictimes.com/industry/indl-goods/svs/packaging/reduce-recycle-dont-reuse-future-as-clear-as-glass-on-packaging-solutions/articleshow/64848893.cms